Every once in a while, there comes along a video game that reaches such enormous levels of popularity that it transcends the games industry and becomes a cultural phenomenon in and of itself. Over the last decade a handful of games have managed it: Wii Sports, Angry Birds, Minecraft, Call of Duty: Modern Warfare, and Pokemon GO are some of the first that spring to mind.
Fortnite is the latest addition to the list – the battle royale builder/shooter which is dominating Twitch and Youtube, and making waves further afield in the mainstream media. It's set new records for concurrent viewers, and it's been pretty much unavoidable on social media platforms like Facebook, Twitter and Instagram.
This article was originally going to be a review of the game, but as I thought about it I was much more interested not in whether the game is good (spoiler: it is), but in why it's been able to reach such enormous levels of popularity. What aspects of the game's design, and of the world in 2018, have conspired to allow Fortnite to capture the zeitgeist as quickly and as completely as it has?
A New Genre's Next Step
To start with, it's the next step in the burgeoning battle royale genre, which has already proven compelling enough to support variations upon its key ideas and gameplay loops. This is how game genres develop: an innovative, popular game comes along, whose ideas inspire a wave of imitators and experimenters looking to expand upon the formula. PUBG is the game which laid the genre's foundation, much as DOOM, Dark Souls or Spelunky did for the FPS, Souls-like and Rogue-like. But Fortnite is the first major player in the second wave of battle royales, and as such players and devs alike are looking to it for clues on how the genre will develop moving forwards.
Fortnite's biggest innovation is, of course, its building mechanics. The ability to place walls, ramps and ceilings increases the pace of the game, offering a huge layer of strategy beyond simply aiming, as well as dissuading players from hiding in a bush for ten minutes. And – whether by a stroke of luck or canny design – those building mechanics have proven to be intuitive for a generation of young kids and teenagers who grew up with construction games such as Minecraft, and are now looking for something a bit more mature.
Minecraft (and imitators like Terraria) were and continue to be popular because they are essentially the digital descendants of Lego: they're sandboxes where creativity and problem-solving can be learned through play. Fortnite, though it doesn't offer the same level of depth in construction, taps into that same desire for creativity, and is one of the biggest reasons for its runaway success.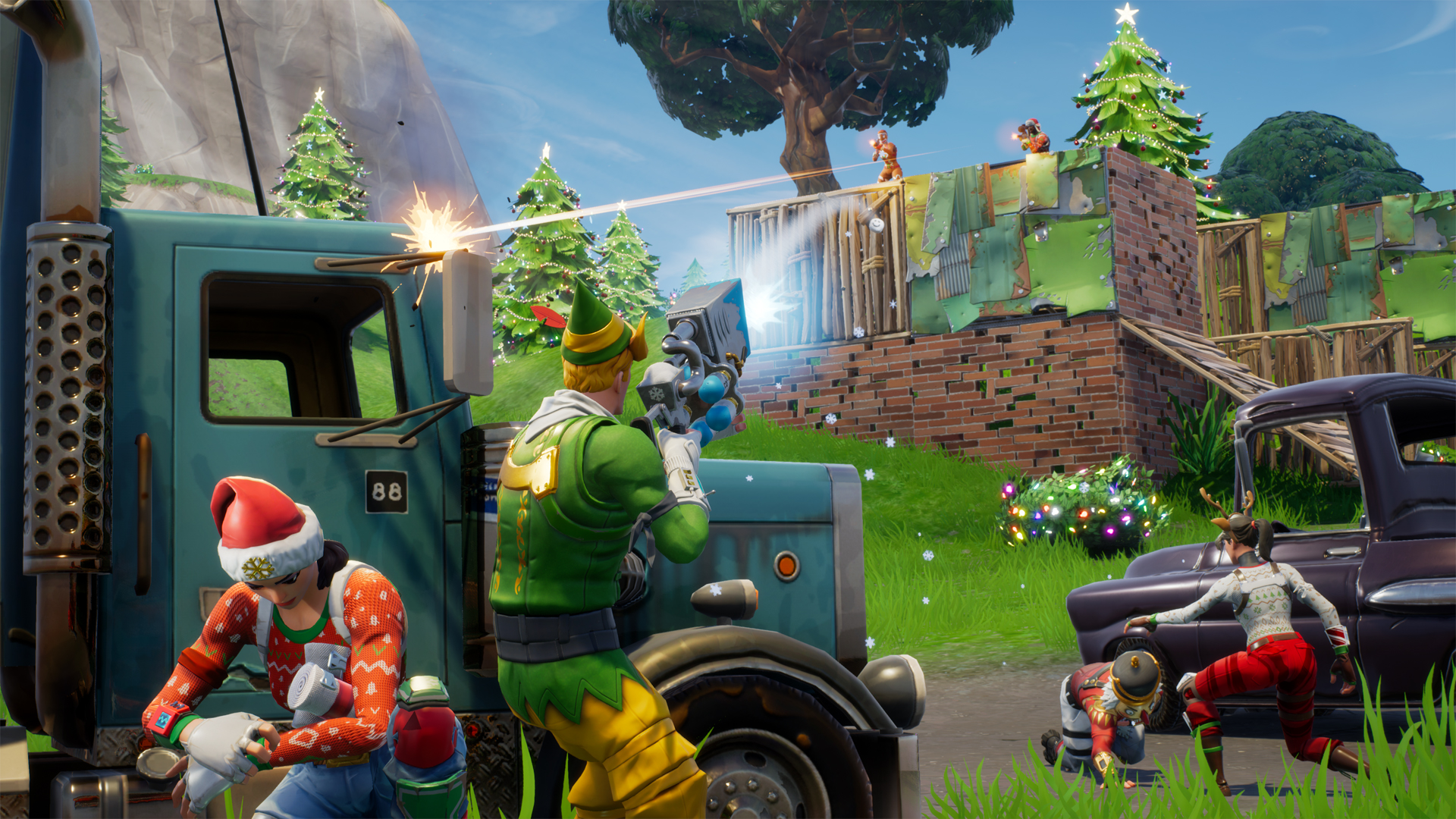 "Fortnite is riding the rising tide of the new media platforms on which it thrives"
This creative play, combined with the game's competitive combat and elements of chance such as random loot and chests, generate stories. You'll always remember that one time you dropped into Tilted Towers and found nothing but sticky grenades, but somehow blasted your way out alive. Or when you shot someone's ramp out from beneath them seconds before they put down a launch pad, and cackled as they fell to their death.
It is these stories which generate another reason for Fortnite's success: its watchability. Each 20-minute game has a narrative arc: the decision making before you drop, then the frantic looting and initial kills, the high-stakes interactions in the mid stage of the game (Is it worth attacking? Can I take them on?), and then the heart-pounding tension of the endgame, when there's only a few players left alive.
Twitch streamers and Youtubers are successful when they are expert storytellers, playing the role of protagonist for their viewers to experience vicariously. Of course, it helps that Fortnite lends itself so well to bite-size viral content, while also being able to sustain multi-hour streams and e-sports tournaments at the same time (for my thoughts on why Fortnite will never be an e-sport, click here).
And it also helps that these platforms are themselves still growing at a very fast rate. Fortnite is riding the rising tide of all the new media platforms on which it thrives, and its success is legitimising streaming and e-sports within the mainstream media. The kind of news reports we used to see on e-sports – "people pay to watch you play videogames??" – seem further and further away each year.
"The game has the depth to sustain audiences over a long period, unlike other viral successes such as Pokemon GO"
The final reason for Fortnite's success, in my opinion, is its accessibility. Not just in its intuitive building mechanics, or its bright cartoonish graphics which take after Team Fortress 2 and Overwatch. But also in its price model – being free to play on PC, console and phones reduces the barrier to entry by an enormous amount, and opens up the game's potential audience. Low barrier to entry is the reason why a game like football is played more than, say, tobogganing: if all you need is a round object and two goals, anybody can have fun playing the game.
That's what it all comes down to in the end: fun. Fortnite is popular because it is immensely fun to play, whether alone, in a pair, or with a group. But all of these trends within game design, and the shifting media landscape in the world at large, have contributed to the game's meteoric rise. It isn't just a flash in the pan, either: Fortnite has the depth to sustain audiences over a long period, unlike other viral successes such as Pokemon GO. I'm sure E3 will throw up a whole lot of announcements of new battle royale games in a couple weeks time, but at least for now it's hard to imagine anything challenging Fortnite's position as the biggest game on the planet.